Spaces available For sale/To let
Commercial units are generally marketed by Alder King, please contact Thomas Dugay for further information. Telephone 0117 317 1000 or email tdugay@alderking.com.
Units and desk spaces available directly through existing tenants are listed toward the bottom of the page.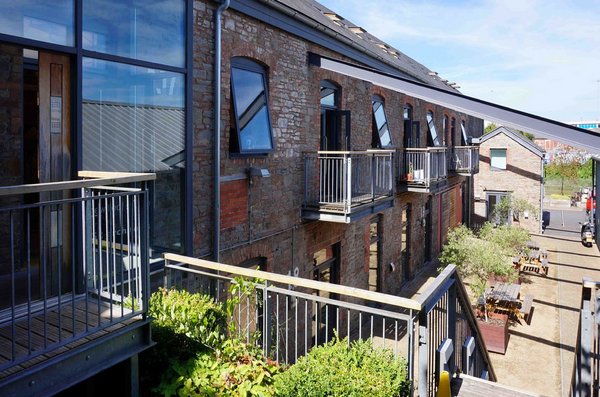 Unit 1.17 – To Let
Light + airy open plan office
Flexible space with mezzanine level above
Options from 1022 sqft to 1550 sqft
With 1-2 parking spaces available
Email admin@studio117.ltd
or call
Kevin Goodenough on 0117 442 0535
Ian R Goodenough on 0117 442 0526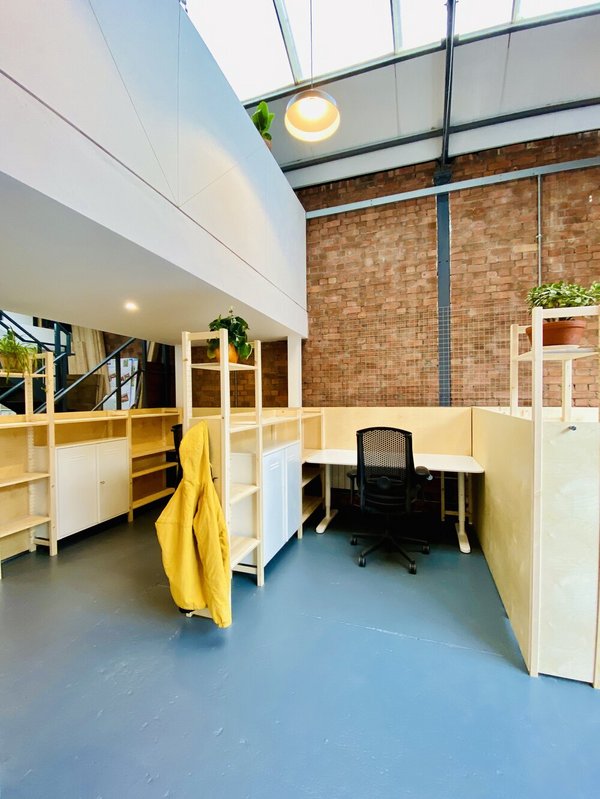 Unit 5.2 – Desk Spaces Available
We are Barefoot Architects. We have very recently taken on the lease of the whole of our workspace at our riverside location in Unit 5.2 at the Paintworks!
We now have the whole of the ground floor of our prominent office space, as well as retaining our mezzanine studio upstairs. We have built 7 'Micro-offices' to sublet to other like-minded creatives to form a 'Design Community'. We've already let the first 3 to our friends at Carpenter Oak , who are specialists in the design, construction and raising of timber framed structures; a regular collaborator and main contractor Space Framing who built our Corten Courtyard House; and Charlie Fowler who designs beautiful contemporary furniture and watches. Long term tenant Nicola Greaves Design remains in the ground floor office studio and is an award winning landscape and garden design studio.
We have four more desks available, each with dedicated storage space, Covid separating screens, a large desk and access to a shared downstairs kitchen and toilet. The unit has its own private entrance, is well ventilated and secure. We have installed hand sanitiser points throughout and continue to operate safely in the space. If you're no longer able to work from home, starting up a new business venture, or a team of between 2 and 4 people in need of a more sociable work environment, then get in touch. Micro-offices are £200/mth with rent freeze for any period of a Tier 3 Lockdown or 'Circuit Breaker'.
Give us a call at 07976 924 251 (Sam) or 07812 033 202 (Rob), or drop us a line at info@barefootarchitects.co.uk if you're interested!
Unit 1.10 – To Let
Light, spacious, open-plan unit at Paintworks.
Usable office area 1440sq. ft. plus generous storage space
2 allocated car parking spaces
Large main area – 948 sq. ft. and mezzanine level 645 sq. ft.
With balcony, private entrance and internal staircases.
Oak flooring, gas central heating, good lighting, door entry system,
Plentiful power points & computer cabling.
Smart fitted bathroom & kitchen, second toilet, enclosed private office.
Please contact Liz Igoe: 07971 925601
lizigoe7@gmail.com
You may also find available desk space listed on the Jobs and Desk Space board.
Get your unit listed
If you're a tenant whose unit is becoming available to rent or buy, you can get it listed on this page. Email another vision or contact Verve for more information.