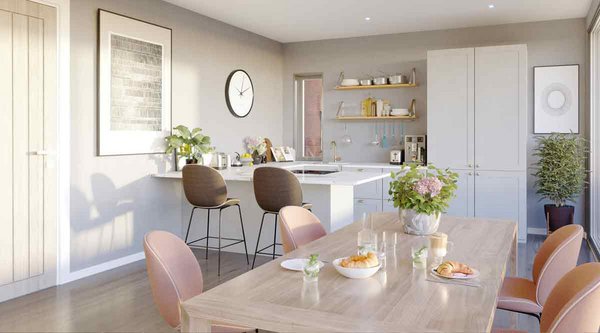 Paintworks IV now launched
For the final Phase of development and regeneration at Paintworks, Verve have joined forces with Rengen. Paintworks IV includes residential, commercial and public use spaces, piazzas and a boating pond.
1, 2 & 3 bedroom apartments for sale
Please contact Savills for further information at 0117 910 0360
General 'Look Ahead' September 2023
Construction Works
Works ongoing to make good road surfacing to the corner of East Block delayed due to lack of availability of matching paviours
Works will be progressing externally during the next few months to complete external works around Phase 4 this will at times require deliveries of associated materials and in turn, some movement of heavy plant. Focus on footpaths around the perimeter.
Additional scaffolding may need to be erected during the period on East block to facilitate external cleaning around the building to render, windows and brickwork disruption will be kept to a minimum.
Works to complete works to the final blocks adjacent to the river now ongoing, with completion due by the end of the year.
East block fit out works are currently ongoing following near completion of West, however commercial unit fit outs will be ongoing in West Block, deliveries of materials associated with these works are main activities affecting site relating to this element of works.
Works have also now commenced to complete additional car parking areas between East and North blocks, which are due to be completed in the coming period and facilitate additional public car parking for the overall site.
Resident changeovers to rental units within Harding Wharf will be progressing during this period.
We are very grateful for your patience whilst we progress any noisy and disruptive works on site
Short Stay Car Park - Temporary Suspension and Overflow Parking
Please be advised that with effect from Monday 20th November 2023, spaces within the existing short stay car park outlined in blue on the plan will be temporarily suspended and fenced off for safety and security. This is essential in order to provide safe access to continue the ongoing construction works.
In order to compensate for the loss of these spaces, additional short stay parking will be available within the new Phase 4 car park circled green on the plan.
The same restrictions of use will apply and the car park will be managed and monitored by G24 in the same manner as the existing Short Stay.
Download a PDF plan of the site, and temporary parking arrangements.
Working Hours
The working hours for the site will be 07:30-18:00 Monday to Friday and 08:00-13:00 Saturday. No working on Sunday.
Proposed Traffic Control Measures
A 'travelling' banksman will assist all Large goods vehicles entering and exiting the site during all construction works.
Loading and Unloading of Plant & Materials / Delivery Frequency of Large Vehicles
When Large vehicles are due to site, the banksman will move to the top of the Main Entrance/Exit Road and will accompany the vehicle down the Main Entrance/Exit road to ensure any potential conflicts are avoided
It is proposed that a strict and co-ordinated delivery schedule is adhered to
The 'travelling banksman' will ensure that deliveries to site are effectively managed, and the general traffic movement through the site during all deliveries (both large and small) is not impeded.
Contact Details
Should you have any further queries or concerns you may wish to raise, please send an email to davidsteadman@iesisgroup.com or call 0117 922 7039
In case of emergency
The site manager Andy Snell can be contacted on 07961 812377 in case of emergency