Updates and information
For the final Phase of development and regeneration at Paintworks, Verve have joined forces with Rengen.
You will find information and updates about work on the site on this page.
Three Week 'Look Ahead' 23rd July - 13th August 2020
Ground Works
Ground works including construction of pile caps, ground beams and temporary retention to the Central Road are currently being progressed (for the anticipated period of 3 weeks)
We are very grateful for your patience whilst we completed some of the most noisy and disruptive works on site
Traffic Management Plan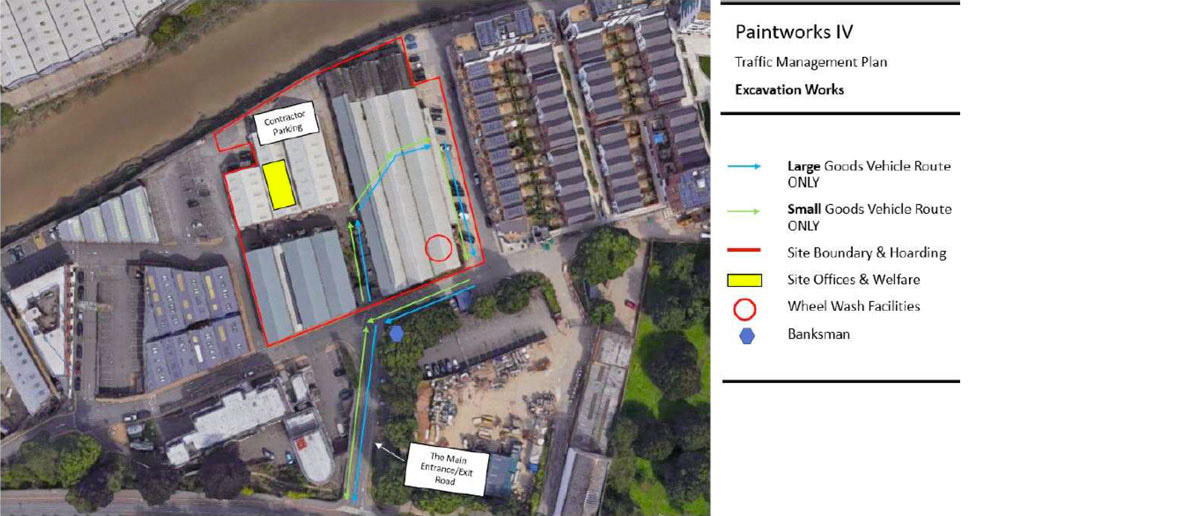 Working Hours
The working hours for the site will be 07:30-18:00 Monday to Friday and 08:00-13:00 Saturday. No working on Sunday.
Proposed Traffic Control Measures
A 'travelling' banksman will assist all Large goods vehicles entering the site during all piling works
The main contractor proposes that the majority of deliveries will be between 07:30am to 16:30 (this is within the planning timescales from 07:30-18:00) and deliveries outside of this timeslot will require prior approval
Large goods vehicles will be assisted down the Main Entrance/Exit road and through the site with the 'travelling' banksman
Stop / go signs and vehicle barriers will be used as necessary on site during piling works
Loading and Unloading of Plant & Materials / Delivery Frequency of Large Vehicles
When Large vehicles are due to site, the banksman will move to the top of the Main Entrance/Exit Road and will accompany the vehicle down the Main Entrance/Exit road to ensure any potential conflicts are avoided
It is proposed that a strict and co-ordinated delivery schedule is adhered to
The 'travelling banksman' will ensure that deliveries to site are effectively managed, and the general traffic movement through the site during all deliveries (both large and small) is not impeded
In case of emergency
The site manager James Raggett can be contacted on 07506 725 340 in case of emergency.
For more information about Phase 4 at Paintworks, please visit the Rengen website www.paintworksiv.com