Tenant log-in
All our lovely Paintworks friends can log in here for tenant info or get a password reminder.
Hello
Welcome to Paintworks, Bristol's Creative Quarter. Have a look around, find out what's on, who's here and what they do.
If you're interested in living or working at Paintworks, or in hiring space for an event follow the links.
What's on at Paintworks
Phase 3 and Phase 4
Phase 3 of Paintworks is now under construction, at the eastern end of the site, this phase will provide around 6,700sq.m. of new employment and commercial floorspace, 11 live/work units and 210 houses and apartments.
Phase 4 is located between phases 2 and 3. The current proposals involve the demolition of the Endemol building and partial demolition of building 6 to make way for 4 new buildings and associated public space.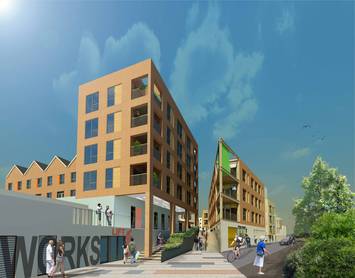 Public Art Commission for Phase 3
Crest Nicholson and Verve are seeking to commission an Artist or Artists to develop new public works as part of the new Phase 3 development of Paintworks.
This is a great opportunity for a professional artist or artists to design, develop and deliver permanent public artworks for the site.